Construction management software
Collaborative and
data driven
construction management and planning software.
Multiple management areas, all integrated in odei.io
PROJECT PLANNING, PROGRESS TRACKING AND COLLABORATION.​
PRESENCE ONSITE, ACCESS LOGS AND WORK CONTROL.​
Connects the field with the office
SEAMLESS DATA EXCHANGE BETWEEN THE FIELD CREWS AND MANAGEMENT AT OFFICE.
SMOOTH INFORMATION EXCHANGE ACROSS TEAMS, MANAGERS, CLIENTS AND EXECUTIVES.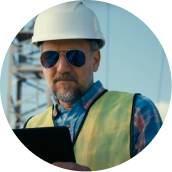 Support your decisions on observable data.
Keep focus on what is more important, odei.io does the numbers for you.
Don't wait until it is too late. Uncover deviations x30 times faster.
Lack of control in your projects?​
Or just looking for higher profitability?
Adjusted to the requirements and needs of the sector
That want to increase control, boost coordination and optimise costs.
Build with higher quality, more safely and greater traceability
That want transparency and get full control over their projects.
Enhance supervision capacity
Minimise construction risk
FOR SMALL BUSINESSES OR SUB-CONTRACTORS
That want to monitor all ongoing projects remotely to the detail.
Increase control to avoid delays and overcosts.
Plans that respond to the needs of all types of companies
odei.io is free for sub-contractors and suppliers that do not need to consult reports, data or analytics.
Select the plan that better suits your needs and start using odei.io today. 
For large enterprises or with special needs.
Resumen
Puntuación del autor





Marca
Nombre del producto
Precio
Disponibilidad del producto